Equity Statement - Overview
A powerful way to display equity data to a participant in a clear and transparent manner
Choose from a multitude of fully customizable Statement templates
The Equity Statement page is one of the most visited pages on the Global Shares EquityGateway participant portal as it contains information on all of the equity awards an employer has granted to their participant.
It shows all existing and historic awards and employees can see the key balances associated with their awards. The Equity Statement gives a detailed overview of a range of topics including vesting schedules and exercise history. It also provides estimate values for awards based on the most recent stock price and it enables employees to estimate values in local currency. In addition, it includes print and PDF export functionality, enabling employees to generate a hardcopy or PDF of their Equity Statement. The Equity Statement gives 24/7 access to live award information, allowing participants to assess the true value they are getting from their equity awards, from anywhere at any time.
Key Benefits of the Global Shares Equity Statement
Real-time equity data – Unparalleled access to and control over equity holding data
Immediate access to award information 24-hours a day via the internet
Clear & transparent Equity Statement, laid out in an elegant easy-to-follow format
Multi-statement templates to choose from
Customized statement offering
Printable, exportable PDF functionality
Live share price and FX feed incorporated into Equity Statement display
Equity Statement toggle facility
Drill-down links to key information
Equity Statement document library pages
Auto-update of Equity Statement balances - e.g. When vesting occurs
Full content management capability on Equity Statement column headers and disclaimers
Equity Statement Video
Watch our 1'30 minute video on Statements:
Track Performance
Online reports on your equity performance metrics
The Equity Statement can be adapted to report on a wide range of metrics:
Simultaneously track multiple performance metrics
Clearly display performance metrics and percentages to employees
Additional performance vest information displayed
Performance dividend integrated into statements for a one-stop overview of equity holdings
Participants have a clear overview and greater understanding of performance
Equity Statement Types
Full range of statements types available
"Global Shares provides a series of statement templates that the client can choose from as well as providing custom statement design facilities. Displaying the equity that a participant has been granted and owns in a clear and transparent manner is absolutely fundamental to the success of a plan or scheme"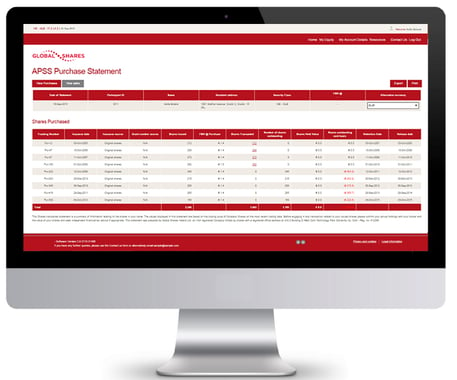 Clients have the power to choose from multiple Statement types and design layouts for their participants. This means that the participant's equity statement shows only the information which is relevant to their specific plans and schemes.
Participants can view balances such as granted, vested, exercised, sold, transferred and more, with the ability to drill down to fine detail such as transaction history and vesting events and all of this information can be printed or exported in digital formats.
The statement area makes it possible for clients to display multiple stock classes across global exchanges, with the stated values viewable in multiple currencies.
The Global Shares Equity Statement collates valuable and essential information for all equity types and displays it to participants in a streamlined and innovative format.
Global Shares can provide Equity Statement outputs for any type of equity or cash information stored on our system, with statement templates for the following equity and cash components:
Option Grant Statements
Restricted Stock Statements
Performance Stock Statements
SAR Statements
Long Share / Share Certificate Statements
Dividend Statements
Vesting Statements
Employee Loan Statements
Funds Statements
Exercise & Release Statements
Warrant, Cash & Bonds Statements
ESPP Purchase Statements
ESPP Contribution Statements
Total Equity Statements
Consolidated Summary Statements
Custom Statements
A fully customizable Equity Statement
Global Shares offers a fully customizable statement facility to clients so they can present their equity plans the way they need to for their valued employees and plan participants. This will help to ensure employees understand the value of what they are receiving from their employing company.
The content such as column headers, grant names and award types is fully customizable on all statements. Multiple miscellaneous fields can be included in the Equity Statement as required to ensure participants know and clearly understand the reports presented to them.
Watch our 30-second customization video here:
See our Equity Statement in action
Request a live demo of our EquityGateway Equity Statement, to see first-hand the presentation power that our configurable Statement generator offers to our clients.
About Global Shares
Global Shares is an International Software Company, specializing in equity compensation management solutions. The company has been developing highly innovative web-based software solutions for companies to automate their employee equity plans for almost a decade. With 70 staff and overseas offices in London, Ireland, New York, California and Brazil, the company currently works with private and public companies with participants in 100+ countries worldwide. The company recently announced major expansion plans with 80 new high-skilled jobs to be added over the next 2 -3 years. The expansion of Global Shares marks the culmination of a comprehensive phase of software development at the Company, which sets a new benchmark in the equity compensation industry in terms of software customization, functionality and user experience.