Global Shares is delighted to announce that Hugh Curran - our VP & GM for the US, has been made an 'Honoree' at the Silicon Valley Global Awards 2019!
Silicon Valley Global Awards
The Silicon Valley Global Awards were established by the Irish Technology Leadership Group to recognise technology leaders driving the most disruptive and groundbreaking work in technology.
Each year the Awards honour the 50 top Irish and Irish-American executives making a significant impact in their field. The Awards generate rich networking opportunities for the winners, as well as showcasing the experts and innovators who are advancing technology today.
The Award Ceremony
The Award Ceremony, which took place at Stanford University in California on March 14th 2019, was attended by Guest of Honour Simon Harris TD - Ireland's Minister for Health - and 300 leaders from the top tech companies in the Valley.

Hugh Curran and Global Shares
Hugh joined Global Shares in 2012 at the company's HQ in his native West Cork, Ireland, progressing rapidly through operations and CRM roles, before transferring to New Jersey to set up a US operations base and move into Business Development. In 2016 he was promoted to VP & GM for the US region.
This is the first time for Hugh and Global Shares to be honoured at the Silicon Valley Global Awards, endorsing the huge progress that he and the company have made in the US market in recent years.
Hugh attended the Gala Dinner and Award Ceremony together with Honorees representing companies including Google, Facebook, Intel, Air BnB, SAP, Logitech, Nokia and many other leading global technology-driven brands.






Prize trip to Silicon Valley in 2018 as winners of the Deloitte 'FinTech Company of the Year'
In April 2018 Hugh represented Global Shares on a 'game-changing' prize trip to Silicon Valley, having won the Deloitte 'FinTech Company of the Year Award' in association with Silicon Valley Bank.
He travelled together with Global Shares' CEO Tim Houstoun, who is based at the company's Headquarters in Clonakilty, West Cork.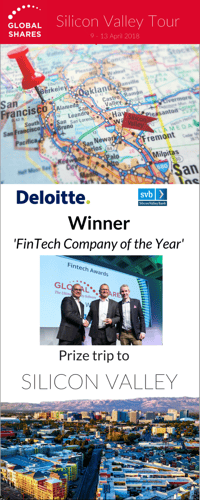 More Information:
Global Shares Press & Media: Aisling Riordan, Marketing & PR Manager, Global Shares HQ, West Cork Technology Park, Clonakilty, Co. Cork, Ireland | E: ariordan@globalshares.com | T: +353 (0)23 8833 062 | www.globalshares.com
About Global Shares:
Global Shares – Winner of the Deloitte FinTech Company of the Year Award 2017, and a Deloitte Fast 50™ Company 2018 – is a leading provider of equity compensation management solutions, providing Share Plan Administration, Global Custody, Share-Dealing, Financial Reporting and expert support services to corporate clients and their employees in over 100 countries worldwide. We develop highly specialised cloud-based software and service solutions for private and public companies of all sizes to manage their employee equity plans globally. We are a regulated MiFID and FINRA/SEC financial services firm. Our technology platform is developed 100% in-house, whilst our highly skilled team of over 240 equity professionals deliver the highest levels of service with a personal touch. Our client listing includes some of the largest and best-known companies in the world who use equity compensation to engage, attract and retain a top-class employee base through share ownership and profit sharing. Our Software has set a new benchmark for the global share plan administration industry. Global Shares is headquartered in Ireland, with offices in Japan, China, Hong Kong, the United Kingdom, Germany, Spain and Portugal. For more information please visit: https://www.globalshares.com
The Irish Technology Leadership Group (ITLG)
Established in October 2007 and headquartered in Silicon Valley, the Irish Technology Leadership Group (ITLG) is a non-profit organization comprised of senior executives from some of the world's leading corporations, each of whom is committed to promoting the technology connection between Ireland and the Silicon Valley. It is a global Irish network of technology leaders who are dedicated to fostering innovation, entrepreneurship and economic success. http://itlg.org
About Silicon Valley
Silicon Valley, California, is a region in the southern part of the San Francisco Bay Area that serves as a global centre for high technology, innovation and social media. It is home to many start-up and global technology companies - Apple, Facebook and Google being the most prominent. It is also the site of technology-focused institutions centred around Palo Alto's Stanford University.
The Valley is home to more than 100 listed technology companies each with a market value exceeding $1bn. The five most popular and best performing tech stocks in Silicon Valley are known as the 'FAANGS' - namely Facebook, Apple, Amazon, NetFlix & Alphabet's Google - which combined have a market capitalisation of $3 trillion USD.
Silicon Valley is home to a very large community of emerging technology companies, with more than 30,000 start-ups registered in the area.